Renowned artist Dale Chihuly once said, "Glass is the most magical of all materials. It transmits light in a special way." Architects know this. After all, one of the most common requests of clients, both commercial and residential, is natural light—as much of it as possible. And its conduit, of course, is glass.
And so were born windows. And skylights. And a sixth glass "wall:" the glass floor.
Interestingly, the first use of walkable glass was not in a commercial or residential structure–or anywhere else on land, for that matter. It made its debut on ships after 19th-century American inventor Thaddeus Hyatt developed glass inserts that could be used in boat decks. The purpose was to cast daylight on the dark quarters and storage spaces below.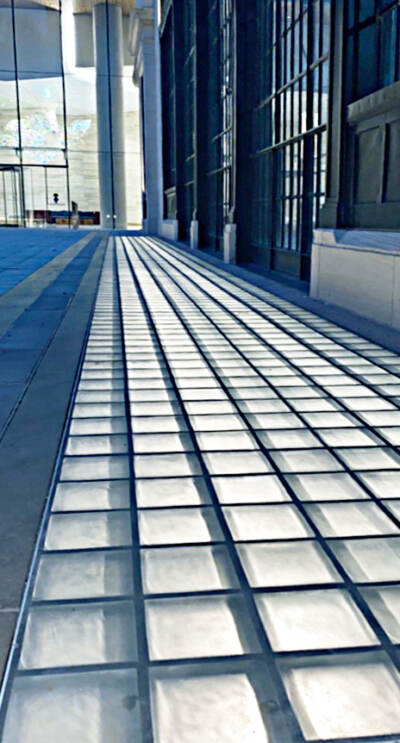 Many cities soon adopted Hyatt's innovation as a way to illuminate "sidewalk vaults," the basement-level storage, office, and living spaces built beneath urban sidewalks. Though most of these glass artifacts have been lost to 20th and 21st century development, innovations in materials and engineering have given architects, designers, and builders new options for creating glass floors.
Today's walkable glass is the result of years of engineering and design for strength and aesthetics. Designers and architects now have numerous choices when it comes to glass flooring products, from concrete panels inset with glass blocks to wide, gleaming glass planks that seem to defy gravity.
Precast Concrete and Glass Pavers
When you need the durability of concrete but want to add a glass floor for light and visual interest, Circle Redmont's 71R™ Glass Pavers & Precast Concrete can function in applications from sidewalks to decks, skylights, and bridges. Glass pavers combined with heavy-duty concrete are perfect for heavily trafficked areas. Designers and architects can choose their level of glass transparency and translucency to allow as much light flow and visibility as they wish. Leading companies like Circle Redmont offer a variety of glass sizes and styles as well as a choice of concrete colors and finishes, as well as recessed panels to accept custom field-applied finishes such as tile or terrazzo. An advantage of this type of glass block panel is its low maintenance. Simply clean them with soap and water.
Clients on every budget can afford walkable glass in the form of a modular glass block and metal system. These walkable glass floors are exceptionally versatile and suited for bridges, stair treads, hallways, balconies, sidewalks, and other indoor and outdoor walkable glass floor applications.
As with Circle Redmont's concrete-and-glass block systems, architects and designers selecting metal-and-glass block systems can choose from a wide variety of glass sizes, shapes, and transparencies as well as a variety of metal finishes, from brushed stainless to bold colors. We offer grids in steel and aluminum for different load requirements. Moreover, the grids are quick and easy to install, saving time and money on labor.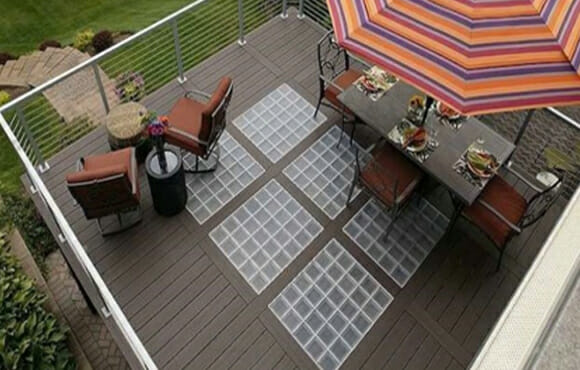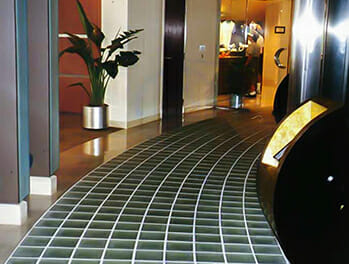 Planks Make a Stunning Structural Glass Floor
Nothing makes a flooring statement like structural glass floor planks. Wide swaths of uninterrupted glass create excitement with their sense of openness. Glass planks can be set into a thin metal framework for a nearly-seamless visual effect. Glass planks provide the highest level of illumination of all glass for floors currently on the market.
Circle Redmont creates each client's glass plank system to order for a custom fit. Beyond interior flooring, architects can also specify glass planks for stairways, bridges, decks, walkable skylights, and other applications. Contemporary blue-green glass is standard, but Circle Redmont also offers a low-iron, clear glass as well. Of course, structural glass floors are made of a special composite laminated glass designed to hold large amounts of weight.
For maximum glass floor coverage with the highest illumination, wow your clients with items like the 91R™ Glass Floor Plank Glass & Metal System from Circle Redmont.
Whether indoors or out, a glass flooring system can add excitement, a sense of "walking on air," visual connection between spaces, and wonderful light. Today there are more options than ever for adding glass underfoot. When you want to "open up" your clients' spaces with glass, contact Circle Redmont. We will deliver the glass flooring solution that is perfect for your project.
[fusion_widget_area name="avada-blog-sidebar" title_size="" title_color="" hue="" saturation="" lightness="" alpha="" background_color="" padding_top="30px" padding_right="" padding_bottom="" padding_left="" margin_top="" margin_right="" margin_bottom="" margin_left="" hide_on_mobile="small-visibility,medium-visibility,large-visibility" class="" id="" /]