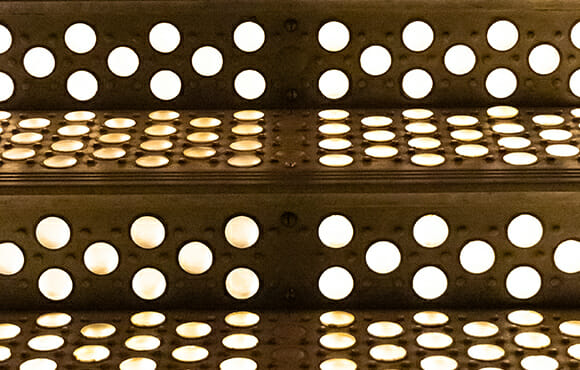 Historic Glass Bullet Vault Lights
Need to keep the historical value of your project while simultaneously adding modern elegance? Our 81R glass bullet glass and cast iron vault light panels are recognized by the New York City Landmarks Preservation Commission (LPC) as a suitable replacement for existing cast iron and glass bullet vault light and stair tread areas. 81R panels will restore your cast iron pavement lights to their original splendor.
Glass bullet and cast iron vault lights can be used in a multitude of applications including sidewalks, stair treads, riser and landings, deck lights, bridges, and more. They will add unique appeal anywhere they are used.
Properties of Vault Lights
Finishes
81R vault light walkable surface is available with a black patina finish. Other colors are available upon request.
Glass Options
Panels incorporate approximately (22) 1-1/2″ round solid glass bullets per sq. ft. 
Sizes & Shapes of Vault Light Panels
Panels may not exceed fifteen (15) sq. ft overall or 5′ in one direction for 100lb load and may not exceed nine (9) sq. ft overall or 5′ in one direction for 600lb load. 81R panels may be installed in tandem to cover virtually any size opening with intermediate support provided by others. Alternatively,  Circle Redmont can engineer a structural support sub-frame if desired. 
Load Capabilities
Panels come in two thicknesses: 1) Regular commercial loading (approximately one and one-half inches thick) weighing approximately 38lb per sq. ft. or 2) Sidewalk loading (approximately four inches thick) weighing approximately 95lb per sq. ft.  Circle Redmont offers a complete line of cast iron thresholds, corners and joint assemblies.
Click here for our online brochure on the 81R Vault Light Panel Systems.