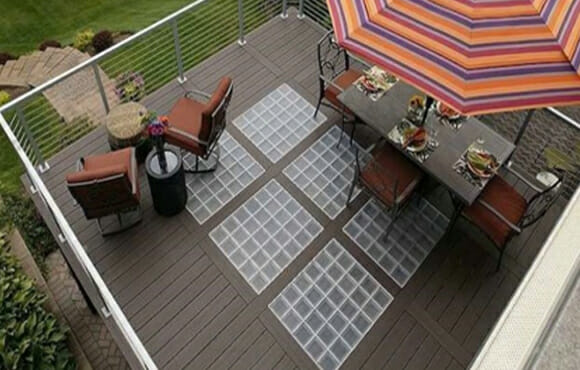 Cost-Effective Glass Block and Metal Systems
Our SolarWhite panels incorporate hollow glass blocks with a structural aluminum or steel framework. These monolithic glass block panels are prefabricated, load-bearing, and are engineered to be thermally efficient. SolarWhite glass block panels install quickly and do not require taxing maintenance, making them a cost-efficient form of glass block architecture for both vertical or horizontal use.
You can utilize these glass block systems in residential deck surfaces, distinctive skylights, or as complete structures such as barrel vaults. Our glass block panels are available in single and tandem assemblies.
Properties of Glass Block Architecture
Finishes
Aluminum or steel frameworks are finished with an architectural swirl finish or Circle Redmont's 2-part epoxy prime urethane high gloss topcoat in white, black, or a custom color.
Glass Options
Glass blocks come in a variety of sizes, shapes, and patterns. Consult with one of our design team members to explore the available options to achieve the right look for your project.
Sizes & Shapes
Standard panel sizes are available in three perimeter types: curb, flange, and inset. Circle Redmont can also engineer and customize the SolarWhite™ panel system for your particular project. 
Load Capabilities
Panels are engineered and fabricated for a minimum live load capacity of 60lb per square foot on a 5-foot span.
Maintenance
SolarWhite panels require little or no maintenance other than an occasional washing with soap and water. 
Click here for our online brochure on the SolarWhite panel systems.