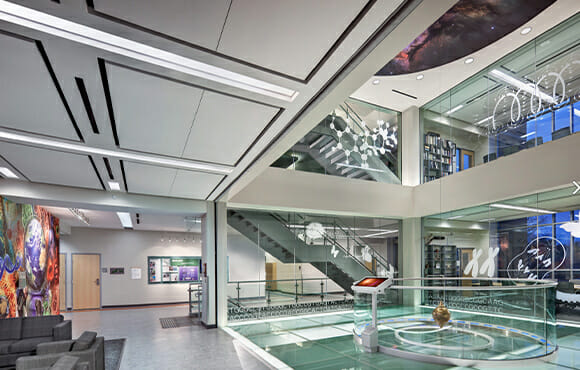 Glass Floors, Bridges, and Stair Tread Systems
Do your specifications require maximum glass floor coverage with the highest illumination? Our 91R plank glass floor panels incorporate plank glass units into a metal framework to build a glass flooring design that will span the area needing to be covered. Plank glass and metal panels can be used as walkable skylights, deck lights, stair treads, risers and landing, or other creative applications. Our glass flooring designs offer an innovative way to utilize glass as a natural light source to brighten any space.
Properties of Glass Floor Panels
Finishes
91R glass floor panel framework is finished with Circle Redmont's white or black 2-part epoxy prime urethane high-gloss topcoat. Stainless-steel panels are finished with our non-directional bead blast finish. The other paint colors and stainless steel finishes are available. 
Glass Options
Plank glass can be custom sized and cut. Plank glass is available in standard or low iron (nearly colorless glass), with a variety of traction control frits (TCF).

Sizes & Shapes
91R Plank Glass and Metal Panels are designed and engineered to each project's requirements. Structural metal frameworks can be designed to span virtually any opening. Plank glass can be cut to accommodate your specific space, even if that space is a unique geometric shape.
Load Capabilities
Glass panels are engineered and fabricated to typically a 100lb per sq. ft. live load on a 4′ span.