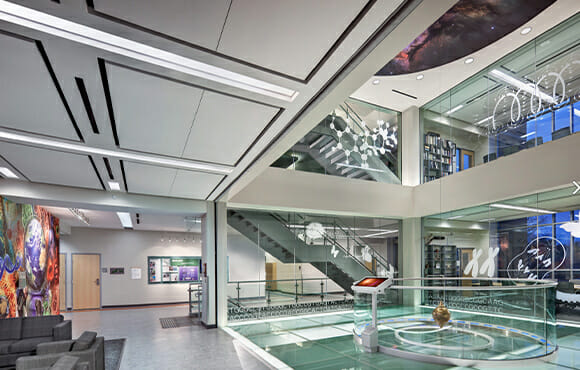 Glass Floors, Bridges, and Stair Tread Systems
Do your specifications require maximum glass floor coverage with the highest illumination? Our 91R plank glass floor panels incorporate plank glass units into a metal framework to build a glass flooring design that will span the area needing to be covered. Plank glass and metal panels can be used as walkable skylights, deck lights, stair treads, risers and landing, or other creative applications. Our glass flooring designs offer an innovative way to utilize glass as a natural light source to brighten any space.
Properties of Glass Floor Panels
Finishes
91R glass floor panel framework is finished with Circle Redmont's white or black 2-part epoxy prime urethane high-gloss topcoat. Stainless-steel panels are finished with our non-directional bead blast finish. The other paint colors and stainless steel finishes are available. 
Glass Options
Plank glass can be custom sized and cut. Plank glass is available in standard or low iron (nearly colorless glass), with a variety of traction control frits (TCF).

Sizes & Shapes
91R Plank Glass and Metal Panels are designed and engineered to each project's requirements. Structural metal frameworks can be designed to span virtually any opening. Plank glass can be cut to accommodate your specific space, even if that space is a unique geometric shape.
Load Capabilities
Glass panels are engineered and fabricated to typically a 100lb per sq. ft. live load on a 4′ span.
Style and Light Underfoot with 91R™
If you want to add drama and contemporary appeal to your next project, a structural glass floor, a sweeping stairway with glass stair treads, or a walkable glass bridge are great ways to achieve this. Circle Redmont's glass flooring products are visually stunning, highly durable, and allow a beautiful, multidirectional flow of light to stream through a space.
Why the 91R™ System?
Choose drama and brilliant illumination in your next glass floor project by specifying Circle Redmont's Plank Glass & Metal Systems in your next structural glass floor.
Architects and designers love our 91R glass flooring panels. The beauty of the 91R system lies in its flexibility. Each system–including the framework and glass planks–is created to project specifications. We custom-fabricate each unit to fit flush with any floor opening. For this reason, you can span any area, no matter how unique its shape or size.
Because Circle Redmont provides design assistance, we take the risk out of specifying our structural glass floors. Engineered drawings will ship along with the grid, spanning members, and glass panels for easy installation and a perfect fit.
A Solid Foundation
The system begins with a thoughtfully engineered and rigorously tested steel frame that supports our composite laminated glass flooring panels. Our framing system supports longer planks without additional structural support for a cleaner, more contemporary aesthetic.
We finish the The 91R™ system's steel frames with a 2-part epoxy prime urethane high-gloss topcoat. Stainless steel panels feature a non-directional bead blast finish. Other paint colors and stainless steel finishes are available.
Our Structural Glass Floors Steal the Show
The glass flooring panels for the 91R™ system are single-sourced, engineered, and factory prefabricated. Choose from standard glass with a beautiful, contemporary green/blue tint or low-iron, nearly-colorless glass. Circle Redmont can fabricate the 91R™ panels to be fully transparent, fully translucent, or anything in between. Moreover, we can achieve a customized look with an optional colored interlayer in the walkable glass floor. Circle Redmont can also add digital printing or silk screening or LED lighting to 91R™ treads for a truly unique effect.
Optional safety features include ceramic frits, acid etching, or sandblasting, so 91R™ can be used indoors or out. Acid etching also eliminates privacy concerns associated with glass flooring panels while allowing light to stream through the system.
Our proprietary glass contains waterproof composite materials and has been extensively tested. It is a proven winner for interior and exterior applications. Use the 91R™  to incorporate long spans of uninterrupted glass without additional structural supports.
91R™ Structural Glass Floor Applications
The 91R structural glass floor system is durable enough for nearly any commercial application, including offices, retail spaces, hospitality (hotels, restaurants, and resorts), healthcare facilities, and public spaces, including museums, government buildings, and mass transit stations. The planks are also suitable and beautiful in contemporary residential settings.
Glass Floors Showcase History
91R™ is the solution where historic features must be conserved. Our system allows you to display and preserve history beneath your feet. 91R™ not only protects history but can help create a focal point in your design.
Create Stunning Staircases with the 91R™ System
Ready to add some "wow" factor to your next staircase project? Take your stairs to the next level by infusing them with light using Circle Redmont 91R™ light penetrating glass flooring. Circle Redmont fabricates the stair tread framework and the glass stair treads to each project's specifications. Therefore, we can accommodate any shape and size, including spiral, curved, S-shaped st