Glass Walls
Architects and designers are shrugging off their notions of dated 1980s glass block and taking advantage of a wide array of new products in the marketplace to create innovative and stylish glass walls and windows.
Exterior and interior walls are an integral part of any building design, and architectural accents like glass block and glass brick can turn a blank horizontal space into a focal point, bringing light, style, and interest to what would have been a bare wall.
Why choose between form and function when you can have a building material that delivers both? Forget everything you think you know about glass block and its dated and utilitarian connotations. Today's glass walls and glass block walls have changed the game.
Interior and Exterior Walls
With a variety of new designs, textures, sizes, and even colors, glass blocks and glass bricks are being used to create striking, modern glass walls in commercial and residential spaces — from chic retail spaces and impressive restaurants to stylish offices and distinctive homes. The recently remodeled Chanel boutique in Amsterdam, for example, features a glass brick facade on its lower two levels that gradually morphs to full masonry brick as it ascends toward the top of the building. The St. Ann's Warehouse arts space in Brooklyn, New York, features nearly 3,000 square feet of glass bricks surrounding its top story, streaming light into the space during the day and serving as a beacon when lit from inside at night.
In distinctive houses — especially those with contemporary or mid century modern design — architects and homeowners are installing entire walls of contemporary glass block to open living spaces to natural light and the outdoors, while sacrificing only as much privacy as desired. In residential bathrooms, where functional glass block has been used for windows and shower enclosures for decades, designers and homeowners are creating fresh and modern new glass block looks that are a far cry from the utilitarian shower stalls of decades past: Colored glass block privacy walls, tub windows, vanity backsplashes, and exterior shower walls with varying textures that provide privacy yet offer transparency and sunlight, are some functional, beautiful examples of new aesthetics.
Dividing and Accent Walls Add Design Interest
Today's wide selection of glass block wall products, including modular units and textured, colored, and differently sized and shaped glass blocks and bricks allow architects and designers to add creative details to any wall or window. A popular choice among architects, glass bricks and blocks offer a unique look and are a perfect solution for enhancing modern architecture.
In residential spaces, architects and interior designers are specifying contemporary glass block walls as dividers in open concept living spaces like lofts and studio apartments.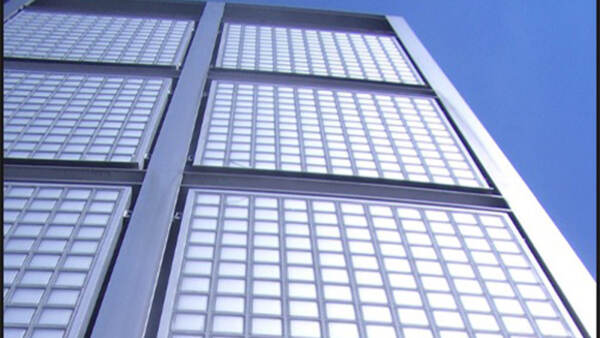 Glass block accent and dividing walls are both practical and attractive. Today's glass block choices mean designers and architects can create design solutions for large, "wall-less" spaces, such as open-plan offices, commercial or residential lofts, or homes with great rooms, and owners' suites. Room dividers made of glass block or glass brick retain the openness and light of an open concept space, while still providing sound dampening as well as a customizable level of privacy. They are also available in a variety of transparency levels, making it possible to balance the light-penetration advantages with privacy options. Picture a children's play space in a modern home separated from living space by a semi-transparent wall of glass bricks or an open-concept workspace in an industrial loft with meeting space separated by glass blocks of an energetic hue. Or, a hotel or restaurant lobby featuring accent walls of cast iron inset with rounds of prismatic bullet glass.
Light-Penetrating Windows
Glass block or glass brick windows are a great solution where standard glass windows are insufficient—or where a design statement is desired. Glass block offers light-penetrating privacy, beautiful prismatic effects, customizable design elements, and enhanced safety and security, especially when choosing glass block products rated for fires, hurricanes, or impact resistance. Glass block windows also offer exceptional energy savings over traditional window panes, thanks to their superior thermal insulation. Today's creative, contemporary product choices — including many pre-constructed panel units for easy installation — and customization options offer aesthetics that you might never have expected from glass block.